Get Fit for Your New Year's Resolutions with These Yoga Studios Near Ocean City NJ
A lot of people want to make getting fit their New Year's resolution. They'll sign up for gyms, and due to the crowds, they may never even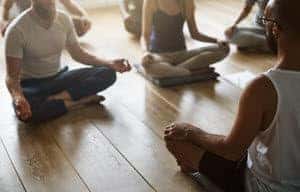 go. Instead of signing up with a fitness club, why not make the experience more than just a workout. Yoga has a variety of medical benefits, one of which is helping you stay fit. Yoga can increase your flexibility, your posture, and even your breathing. You can enjoy the workout and feel refreshed afterwards.
To help you get started, we did a little research for yoga studios in the area. Here's our guide on how to get fit for your New Year's resolutions with these yoga studios near Ocean City NJ.
Golden Buddha Yoga
854 Asbury Avenue, Ocean City, NJ       Facebook   |  Instagram
If you're looking for a wide variety for your yoga classes, you may want to check out Golden Buddha Yoga. They teach many different styles of yoga in varying conditions. Each class aims to help you strengthen your body, your mind, and your spirit. They offer beginners classes, as well as advanced sessions for the dedicated experts. You can schedule your weekly classes, or you can simply drop in for a session when the mood strikes or the time is right.
Yoga Ginger
717 Asbury Ave, Ocean City, NJ    Facebook
Suzanne Chew founded Yoga Ginger to help spread her joy and passion for yoga. She feels that ambiance has a lot to do with the experience of yoga, so she made her studio warm, welcoming, and inspiring. There are a wide variety of classes including Warm Vinyasa Flow, Balance Focus, Fluidity, and even Hot Vinyasa Flow. Each class is designed for all levels of yoga practitioners, so you'll ever feel lost during the session.
Zen Den Yoga Studio
101 North Washington Avenue, Suite 2A, Margate City, NJ  Facebook
The instructors at Zen Den Yoga Studio in Margate City promise a yoga experience like no other. They've got interesting yoga classes that aim to provide a unique and memorable experience. If you're really trying to push yourself with your workouts, you may want to consider Super Soaker, which is a high-energy class that's heated to help you sweat while pushing yourself to new positions. The Can of Whoop-Asana is an intense class that may seem like an uphill battle, but you'll leave feeling refreshed and rejuvenated. Check the schedule to see which class seems like the best fit for you and your experience level.
Want to work toward getting the body you want while also strengthening your flexibility and your mind? Check out these Ocean City- based yoga studios to help you see your New Year's