What Is AcuraWatch?

Whether you're driving solo or with your loved ones in tow, it's nice having a vehicle that's got your back.
Such is the case with Acura models, with many having AcuraWatch™ come standard or available in an options package.
Below, we'll tell you exactly what AcuraWatch™ is and how it can keep you safe when traveling around Egg Harbor, Atlantic City, and Vineland. If you have any questions along the way, feel free to contact us at Boardwalk Acura.
Defining AcuraWatch
AcuraWatch™ is an intelligent suite of driver-assisting technologies. It's designed to act as a second pair of eyes, alerting you to hazards you might miss while driving.
Many Acura vehicles either come standard with AcuraWatch™ or offer it in a particular package. These models include the:
Overall, you'll have features that can take over when needed to help prevent an accident from occurring.
Features Found in AcuraWatch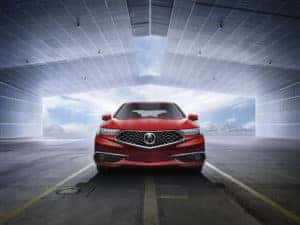 Since AcuraWatch™ consists of several driver-assisting technologies, here's a breakdown of what each one can do for you.
Collision Mitigation Braking System™
CMBS™ uses a radar system and high-resolution forward came
ra to recognize vehicles or pedestrians. Once you start to get too close to an object, the system will warn you to take action.
If you can't hit the brakes in time, CMBS™ can use up to 80% of full braking power to help avoid or reduce impact with a detected object.
Adaptive Cruise Control
ACC with low-speed follow lets you set a desired speed on the road. However, it also allows you to maintain a safe distance from the vehicle in front of you.
So, if traffic ahead begins to slow down, the system will automatically slow your car down. Then, once cars start moving again, ACC will bring your vehicle back up to your originally set speed.
Road Departure Mitigation System
This system uses a monocular camera to recognize roadways and solid lane lines. If it detects that your Acura has drifted over road markings, it'll send visual and audible alerts. It can also use steering assist and brake assist to help you stay on the road.
Lane Keeping Assist System
LKAS works in tandem with Road Departure Mitigation for times when you start to unintentionally drift from your lane.
Whether you're on a straight or mildly curving road, the system can detect when you move out of a detected lane without using a turn signal. If that happens, LKAS will slightly tug on the steering wheel, guiding your vehicle back to the center of your lane.
Other Driver-Assisting Technologies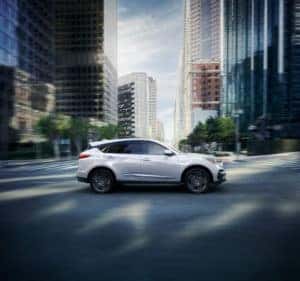 There are even more features found inside Acura models to help keep you safe. Two that go hand-in-hand are the Blind Spot Information (BSI) System and Rear Cross Traffic Monitor.
If you're driving along and wish to change lanes, BSI will warn you when a vehicle is in your blind spot. You'll notice an indicator on the appropriate side's windshield pillar, which will disappear once the coast is clear. The Rear Cross Traffic Monitor, meanwhile, will warn you when a vehicle is approaching from either side when you're in reverse. It's especially useful when backing out of a driveway or parking spot.
Another helpful safety feature is the Surround-View Camera System. It comes with four exterior cameras that give you a 360-degree view of the space immediately around your car. These images are shown on the vehicle's display screen, and you can toggle between views to help see your surroundings better.
See What AcuraWatch Is All About
As you can see, AcuraWatch™ is filled with many impressive features. A great way to familiarize yourself with those technologies is to see them in person.
Drivers in the Egg Harbor, Atlantic City, and Vineland areas can contact Boardwalk Acura for a tour of our showroom. We'll gladly demonstrate the capabilities of AcuraWatch™ in a variety of our models. Then, we'll have you take a test drive or two to decide which vehicle is right for you.
Don't wait. Contact us today to get started!