Used Acura Dealer Egg Harbor NJ
Egg Harbor Township, NJ, is a picturesque community located by the harbor of which it was named. Dutch explorer Cornelius Jacobsen Mey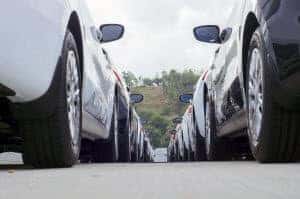 named the bay when he arrived in 1614 due to the thousands of shorebird and waterfowl eggs that covered the meadows surrounding the bay. Since then, Egg Harbor has become one of the most sought after areas in South Jersey to raise a family. Given the beautiful views of the bay and the marshes, taking joy rides or scenic routes is common among Egg Harbor residents. However, getting behind the wheel of a stylish luxury car can really add to these experiences. Conveniently, there's a used Acura dealership in Egg Harbor, NJ, that can help you find the right model for the right price. At Boardwalk Acura, we're simply proud to be a part of the community.
Browsing at Your Egg Harbor Used Acura Dealer
When you're ready to start looking for the right used Acura model, having us in the same township is a sign that you're headed in the right direction. You can easily head to our lot to start looking around, but if work and family take up a significant portion of your schedule, we understand. Luckily, our digital used Acura showroom is open 24/7, so you can always head to our website and browse our used inventory when it's convenient for you. And, you'll be able to get a sense of the different Acura models and styles that we have, so you can plan your trip when the time is right.
Certified Pre-Owned Acura Dealer in Egg Harbor
If you're browsing for a used Acura, why not look for a Certified Pre-Owned Acura? These models have to be in near-perfect condition in order to earn our certification. Each vehicle must pass our intense and comprehensive 182-point inspection in order to make its way into our selected inventory. These models even come with a few helpful warranties like our 7-year/100,000 mile Powertrain Coverage and our 5-year/50,000 mile Non-Powertrain Coverage.
Experiencing Your Next Vehicle at Your Egg Harbor Used Acura Dealer
After reviewing our inventory and considering your options, you'll want to visit our pre-owned Acura dealership in Egg Harbor to get a closer look so you can make your decision. Our Used Acura Experts will guide you through our inventory to highlight the different models and options that may appeal to you and your driving style. However, when you really need to make up your mind, there's no better way to determine the right option than by taking a test drive in your favorite model.
Used Acura Financing in Egg Harbor NJ
The last step towards getting your used Acura off our lot in Egg Harbor is through our finance center. We can help you get the vehicle you want with the terms that work for you and your budget. Our financiers will lay out the different options, terms, and fees so you can get a better idea of which loans and rates are best for you. We want you to drive off our lot in your Acura happy with your choice and the deal that we were able to get you. We at Boardwalk Acura are proud to serve and be a part of the Egg Harbor Township, NJ, community.