Identifying Signs of Tire Wear
In some instances, folks will be driving around with worn tires and not even know it. Typically, tires last four or five years, with anywhere from 60,000 to 75,000 miles being an average lifespan estimate. Certain factors will change those figures, however. If you enjoy spirited driving with a lot of quick accelerations and sudden braking, your tires may wear down more quickly. The same accelerated wear can occur with tires that regularly go off-road or tires tasked with towing and hauling immense loads.
So, if you aren't sure how old your tires are or how many miles are on them, how do you determine when it's time to make a switch? There are symptoms your tires will show that suggest a change needs to take place. While contacting our staff with these questions is helpful, we also thought laying out key symptoms of tire wear right here would come in handy.
Here are a few of the most prevalent symptoms suggesting your tires are beginning to wear:
Bald Tires: Tires have tread on them for a reason. The tread helps improve traction first and foremost, yet it also impacts tire noise when you're driving on the highway among other things. So, if your tires no longer have any tread on them and instead look bald or smooth, you need to swap them out for a fresh pair.
Unusual Pulling: If you attempt to brake or are simply driving straight and notice your car pulls either to the left or the right, it's a sign your tires are unevenly worn. In this instance, you may only need a tire rotation rather than a full replacement.
Bubbles, Bulging, or Holes: Any obvious anomaly on your tire exterior walls, such as holes, large bubbles, or obvious bulging, is reason to bring your vehicle into our tire center. In some cases, we can save your tires through service. In other cases, swapping out the tires makes the most sense!
Customizing Your Tires to Match Your Lifestyle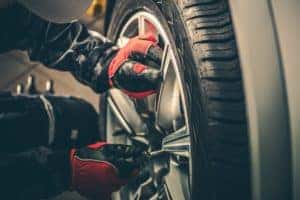 Your lifestyle is unique, and the vehicle you drive each day needs to complement your specific travels. Certain elements of a model, such as the tires, can be customized to better accommodate commuting, off-roading, performance, fuel economy, and more. With a wide range of styles and makes, tires give you the chance to match your set with your needs.
If you come by our tire center, you can speak with our certified staff of technicians. Each of these technicians understands the differences from one set of tires to the next and knows how to match the right tire to your specific needs.
For example, if you enjoy off-roading, we have all-terrain tires with heavily studded treads and impressive durability, so you can move along any rugged trail with confidence. When the weather changes in the winter, we can quickly install all-weather rubber that gives your model enhanced traction and poise on slick streets.
If you have a high-performance car, changing the tires often will keep your traction at its peak. Also, with specific performance tires, your car will see upticks in acceleration and high-speed grip.
Finally, matching tire size to your vehicle is important. The wheels and the tires wrapped around them can check in anywhere from 16 inches to 24 inches—or more. Trucks are a perfect example. In certain trucks that have been lifted, you can opt for wheels in excess of 30 inches.
All these variations and how they relate to your exact model can be better understood by contacting our staff over the phone or by coming into our helpful tire center!