Welcome to the Boardwalk Acura Parts Department. We're here to provide Acura drivers in the Egg Harbor, Atlantic City, and Vineland areas with genuine parts and accessories that they can use with their vehicle. Whether you're the type of driver who likes to regularly maintain their vehicle on the weekends, or you're looking to replace a simple part, Boardwalk Acura is your destination for the exact parts you need to keep your vehicle in great shape and performing like new.
Genuine Acura Parts
It's a fact of life that car parts don't always last. Over the years, they'll endure some wear and tear that'll require you to find a part for replacement. But, when it's time to find replacement parts for your Acura, there's no better destination for the right parts than our Acura dealership. These parts are specifically designed to fit and function perfectly in your vehicle. Whether it's a cap, a filter, or even windshield wipers, you'll be able to find exactly what you're looking for by ordering it through our parts department from one of our friendly and knowledgeable Acura parts experts. If you need help installing it, you can even come to our service center.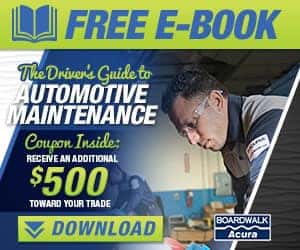 Acura Parts vs Aftermarket Parts
When you realize that it's time to find a replacement part for your Acura, you may consider going to an auto parts warehouse or automotive retailer to find the part you need. However, these stores don't have Acura professionals working the counter, nor do they have certified parts that are designed specifically for your vehicle. While aftermarket parts can certainly do the job, they're not the highest quality and they'll wear much quicker than a genuine Acura part. You'd end up buying the same part over and over again when the right Acura part would've done the job, and saved you money and trips to the auto parts store.
Find Some Fun Acura Accessories
Do you want to make your Acura more of an extension of yourself? One of the easiest ways to do this is by installing some fun accessories. You can get some floor mats to help keep the interior free from dirt and debris, splash guards to prevent your vehicle from getting muddy, or even a car cover to help preserve and protect your Acura model from the elements. That way you can keep your Acura model looking at its best for years to come.
Ordering Your Acura Parts
When you know the part you need, and you're ready, you can easily order the part online. We just need some basic information from you and your vehicle, so we know the exact model and package you have in order to get you the specific part that you need. You can even request installation, so one of our certified Acura technicians can install the part so you don't have to.
Boardwalk Acura is proud to help drivers in the Egg Harbor, Atlantic City, and Vineland area find the right parts for their vehicle. Order your parts from us today!