Creative Flow Studio Arts: Creating Art at the Jersey Shore
Painting is a great way to express yourself as well as relieve some stress. However, you may be looking for inspiration or wanting to improve your skills.
Luckily, Creative Flow Studio Arts can help with all those aspects. In this local spotlight, we'll tell you all about this studio and the services they provide. Then, you can sign up for a class and create a one-of-a-kind masterpiece yourself!
About the Artist & Her Studio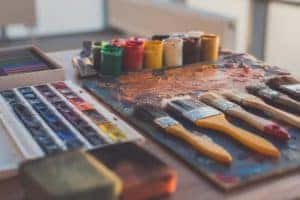 Creative Flow Studio Arts was founded by Susan Daly, a woman who's been in the art business for over 30 years. She's mostly known for her work as a mural artist, where you can find her masterpieces in many casinos, restaurants, and—most notably—the huge skyscapes in Bally's Wild Wild West Casino.
She worked out of her home-based studio for 20 years before expanding to a new open studio/gallery concept. This is so she can be around people and stimulate her creative juices while helping others do the same.
Classes, Commissions & More
If you like painting in a social setting, Creative Flow has lots of classes available to take. This can be done at her studio or she'll bring the party to you.
However, she does provide other types of services. For instance, if you're interested in a piece for yourself or your business, Susan can create something special for you. Just let her know what you have in mind, and she'll get to work.
You can actually see her original artworks when you stop by. In fact, you could observe the creations in progress. You never know what she'll work on next, be it a mural, portrait, or illustrations for a book. So, stop in to see what's on her agenda!
Sample Paintings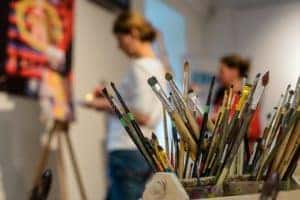 If you want to create fun works of art like Susan, be sure to sign up for any classes available throughout the year.
Some examples of paintings you could complete are:
Ganesha Van Gogh
Home Sweet Home
Caribbean Escape
Olive Tree
The paintings are always changing, so check the calendar to see what classes are coming up.
Sign Up for an Art Class Today
If you're ready to explore your artistic side, this Ventnor, NJ, is the place to visit. You can get more information on the Creative Flow Studio Arts Facebook page. Then, stop by or sign up for a painting class today!