Ice Cream near Me Egg Harbor NJ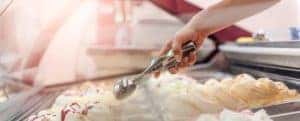 There are many reasons why people love ice cream so much. First, you can eat it anywhere, during any time of the year. Plus, it's a nice pick-me-up when you're in the mood for something sweet.
While you could get some ice cream at the grocery store, why not go for something a little different? Check out some unique flavors at the following places for ice cream near me in Egg Harbor, NJ.
Tropical-Themed Ice Cream Parlor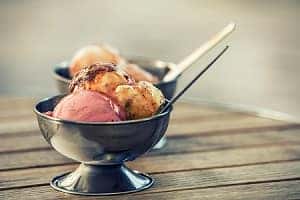 Aunt Betty's Ice Cream Shack has been serving ice cream in a clean, family-fun atmosphere since 2006. It's also tropical-themed, with palm trees, island-inspired fans, and a bamboo deck.
Here, you'll find Hershey's Ice Cream, Via Veneto Italian Ice, and quality name brand toppings. While you could get a scoop of ice cream in a cup or cone, you'll definitely want to try one of Aunt Betty's specialties.
There's Betty's Favorite, for example. Vanilla ice cream is topped with hot fudge, peanut butter sauce, marshmallow topping, and crushed pretzels. There's also Gracie's Glory, which is a homemade brownie topped with coffee ice cream and hot fudge.
Check out some more ice cream concoctions on the Aunt Betty's Ice Cream Shack Facebook page.
Ice Cream Truck That Serves with Style
If you can't go out to get ice cream, then Ken's Ice Cream will bring it to you. Their soft serve ice cream truck has a regular route around the Egg Harbor area. Plus, they specialize in events and parties. They're even expanding their party rental area to major shore towns like Ocean City and Cape May.
They have the standard Vanilla and Chocolate soft serve. Plus, you can get various milkshake flavors like Original Oreo Cookie, Salted Caramel, and Texas Peanut Butter. Additionally, they have smoothie selections like Pineapple Paradise and Mango Tropics.
To see when they're in your area, visit Ken's Ice Cream on Facebook.
Serving South Jersey Since 1973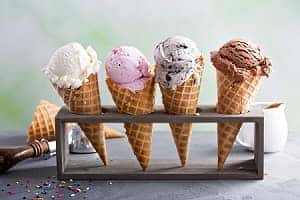 For a nice variety of treats, you can't go wrong with Little's Dairy Bar. They've been proudly serving South Jersey for over 45 years and have no plans on stopping anytime soon.
You'll find soft serve and hand-dipped ice cream in a variety of flavors, from Vanilla and Chocolate to Cookie Dough and Caramel Caribou. Plus, you'll find plenty of toppings, such as hot fudge, wet walnuts, crushed cherries, and graham crackers.
Learn more on the Little's Dairy Bar Facebook page.
Never a Bad Time for Dessert
When you're screaming for some good ice cream, just visit any of the above places near Egg Harbor, NJ. Enjoy!