How to Check Transmission Fluid

Transmission fluid helps keep the parts of a transmission lubricated and cool. Over time, the fluid can collect debris, which means it can no longer effectively do its job. This could then cause the transmission to break down.
To prevent this from happening, you'll want to check your transmission fluid regularly. We'll explain to drivers like you near Egg Harbor, Atlantic City, and Vineland how that's done and the best way to get it replaced. Read through our guide on how to check transmission fluid, and contact us at Boardwalk Acura if you have any questions.
How to Check Your Transmission Fluid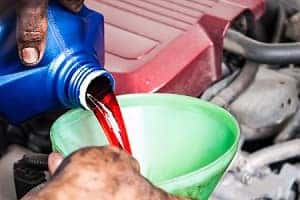 Before you can begin checking the transmission fluid, you'll need to find the dipstick. It's usually located near the engine oil dipstick and labeled for easy access. If you have a front-wheel drive car, then you can find the dipstick sticking out of the transaxle near the front. If you can't find the transmission fluid dipstick, then check your owner's manual for the exact placement.
Once you find the dipstick in your automatic vehicle, you'll follow these steps to check the transmission fluid:
Pull out the dipstick: Make sure this is done when the car is in Neutral or Park, the parking brake is on, and the engine is running.
Check the fluid: It should be pinkish and almost clear in color. It should also be free of particles and not look or smell burnt.
Wipe the dipstick clean with a rag, reinsert it, and pull it out again: This is to check the fluid level. If the liquid is clear, but doesn't reach the Full line, then more will need to be added.
When to Check Your Transmission Fluid
There are several instances when you'll want to check the transmission fluid. If the vehicle hesitates when you shift gears, then the transmission could either be faulty or low on fluid.
Additionally, you should never lose automatic transmission fluid in normal operation. So, if the level is down, then there's mostly a leak somewhere.
If the fluid has to get replaced, you'll want it done as soon as possible. Ignoring this issue will cause the transmission to completely break down, resulting in a costly replacement.
Getting Transmission Fluid Replaced
While you could check the transmission fluid yourself, this process is best left to the professionals. This is especially true with vehicles that don't have a transmission dipstick. In this case, the fluid level would have to get checked using an electronic device or by removing a screw in the transmission housing.
If you bring your vehicle to our service center, our technicians will take care of this with no problem. If the fluid has to be topped off or replaced, we'll only use the highest quality product. Plus, our team will work quickly and efficiently, so you can get back on the road as soon as possible.
Schedule Service Today
If you need the transmission fluid checked in your car, then schedule service at Boardwalk Acura. Either give us a call or make an appointment online, and we'll confirm a day and time that work for you.
If you live near Egg Harbor, Atlantic City, or Vineland, don't wait. Schedule a transmission fluid check today!