Where to Get a Good Cup of Coffee Near Egg Harbor, NJ

It's no secret that many people love starting their day with a good cup of coffee. It not only wakes you up, but it also warms you up or cools you down depending on how you drink it.
While you could have a cup at home, it's more exciting to get out there and enjoy it with your fellow coffee enthusiasts. If you're not sure where to go in the morning, continue reading our guide to the best coffee shops near Egg Harbor, NJ.
Time Stands Still Here

Mark and Debbie Becker, owners of Barista's Coffee House, wanted to create a neighborhood atmospheric coffee house that drew in different groups of people. They certainly accomplished that with the comfortable "Old World" European environment and delicious food and drinks.
Here, you'll find hot or iced cappuccinos, mochas, or macchiatos. You can also try one of their signature drinks like the Barista's Latte that consists of espresso, steamed milk, French vanilla and caramel syrups, whipped cream and drizzled caramel sauce.
Check out their drink and food options on the Barista's Coffee House Facebook page.
Eat, Drink & Be Happy
Jon & Patty's was opened in 2008 by a husband and wife duo. Here, you'll find fresh, healthy, and affordable neighborhood bistro fare. Plus, Jon and Patty are always coming up with new menu ideas and developing them with Chef Lainie. The new dish gets featured as a special on the menu, and if the customers love it enough, it gets repeated throughout the year.
Not only do they serve delicious food, but they have creative coffee drinks, too. Many of them consist of a double shot of espresso with steamed milk and different flavorings, all topped with whipped cream.
For example, there's the Snickerdoodle which features chocolate, hazelnut, and caramel as well as the Pecan Pie which has caramel, pecan, and vanilla.
Learn more on Jon & Patty's Facebook page.
Roasted on the Beach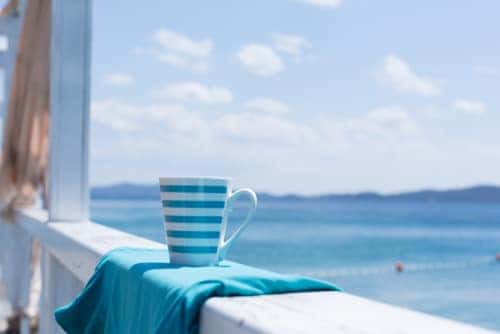 Ocean City Coffee Co. takes pride in offering high-quality gourmet coffee and great customer service. Not only do they have three physical locations, but they also have an online store. Plus, if you're part of their Coffee Club, you'll get two pounds of freshly roasted gourmet coffee delivered directly to your door.
When you visit, you'll find that there are lots of coffee options to choose from. There are single origin coffees like Brazilian and Columbian. There are also flavored coffees like Almond Cookie or Calypso Cream. The former has amaretto and vanilla flavoring, while the latter has coconut and butter rum flavoring.
For more information, check out Ocean City Coffee Co. on Facebook.
Start Your Morning Off Right in Egg Harbor, NJ
If you're waking up in the Egg Harbor, NJ area, you'll want to start your day off on the right foot. And you can do so by visiting any of these coffee shops near you today!