Car Battery Service & Replacement in New Jersey
The battery is essential to the life of your car. If it doesn't work, the car won't start, leaving you without a mode of transportation in Egg Harbor, Atlantic City, or Vineland, New Jersey.
If you're looking for a "car battery replacement near me," Boardwalk Acura is here for you! Below, we'll tell you when you should get a car battery replacement, how the process goes, and more.
Read through the information below, then contact Boardwalk Acura if you have any questions or wish to schedule car battery service.
Common Car Battery Questions
When to Change Car Battery near Me
A car battery usually lasts around four years. However, many people don't know how old their battery is.
Fortunately, cars give off several warning signs, letting you know when the battery is starting to fail and when you should start searching for a car battery replacement near you. These include:
Slow engine crank: When you put your key in the ignition and turn it, it's the battery that starts the engine. If the engine cranks slower than usual, then the battery is starting to die.
Strange smell: If a battery has been frozen or overcharged, the case may vent gas, which often smells like rotten eggs. The battery will need to be replaced right away, as the sulfuric acid can eat away at other engine parts. This will result in a great amount of damage that can cost a lot to fix.
Dashboard warning light: This warning light often looks like a battery. If the light appears on the car's dashboard, it could mean several things, such as an internal problem with the battery or there could be something wrong with the alternator.
Dimmer lights: The battery in your car sends power to multiple systems, which include your headlights. If you are driving around at night and notice your headlights aren't shining as brightly as they normally do, this could be a sign they aren't getting enough power from the battery. In this case, it is time to have your battery checked and possibly replaced.
Swollen battery case: When you pop open your hood to get a closer look at the battery, you may see that the sides of the battery case are swollen. This can be because of extreme temperatures, both hot and cold.
---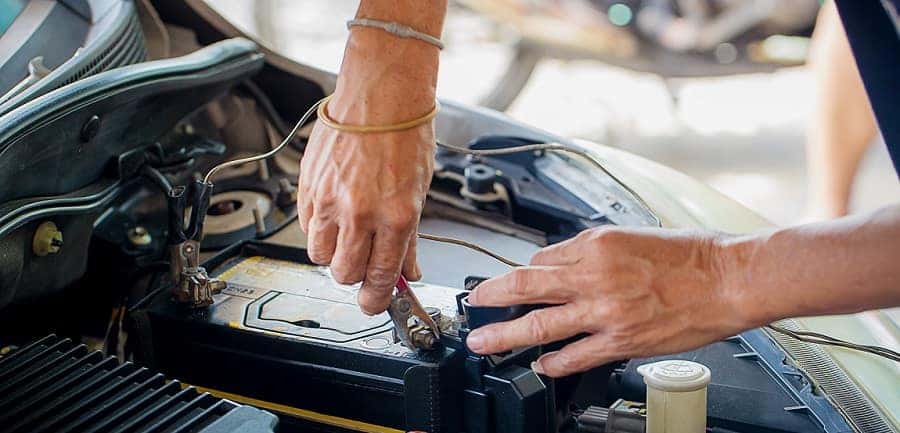 Ways to Extend Your Vehicle's Battery Life
As we mentioned before, car batteries don't normally have to be replaced until at least the 4-year mark. There may be factors that could affect the timeline, though, such as environment and driving habits.
Luckily, there are ways to lengthen the lifespan of an Acura battery. First, you should avoid taking frequent short trips (if you can help it). If every drive you make is a short one, it doesn't give the battery enough of a chance to fully recharge itself. Therefore, the battery voltage will reduce gradually until your vehicle will no longer start.
While you want to avoid taking short trips in your car, you still need to drive it around. All batteries will lose power slowly over time. However, the rate can increase when a vehicle is sitting unused.
In fact, a battery will self-discharge at a rate of 1% per day at room temperature and 1.5% each day at temperatures up to 86 degrees. A parasitic load, or power consumed even when an automobile is turned off, will increase that rate of discharge. If you're unable to drive your car every week, we suggest connecting it to a charger to maintain the health of the battery.
Another tip is to turn off all the lights and electronics before you turn the car off. Make sure the radio and internal lights are off and unplug any power cords–like your phone charger–from a USB port or auxiliary jack. By ensuring that everything is off once you exit the car, you can reduce the amount of power lost inside your battery.
---
How To Replace a Car Battery
It's important to note that even if you do everything in your power to extend battery life, it will need to be replaced at some point. This is especially true if your Acura is showing any of the previously mentioned warning signs.
When it comes time to replace a battery, you could do this type of maintenance yourself, if you'd like. Make sure you have the proper tools in hand and that the vehicle is turned off and in park. Then, complete the following steps:
Pop the trunk and find the battery.
Detach the negative (Black) battery cable, then the positive (Red) battery cable.
Remove the battery hold-down clamp and take the battery out of the tray.
Clean any corrosion off the tray and clamp and clean the battery cable connectors.
Place the new battery in the tray and secure it with the clamp.
Attach and tighten the positive battery cable, and then the negative one.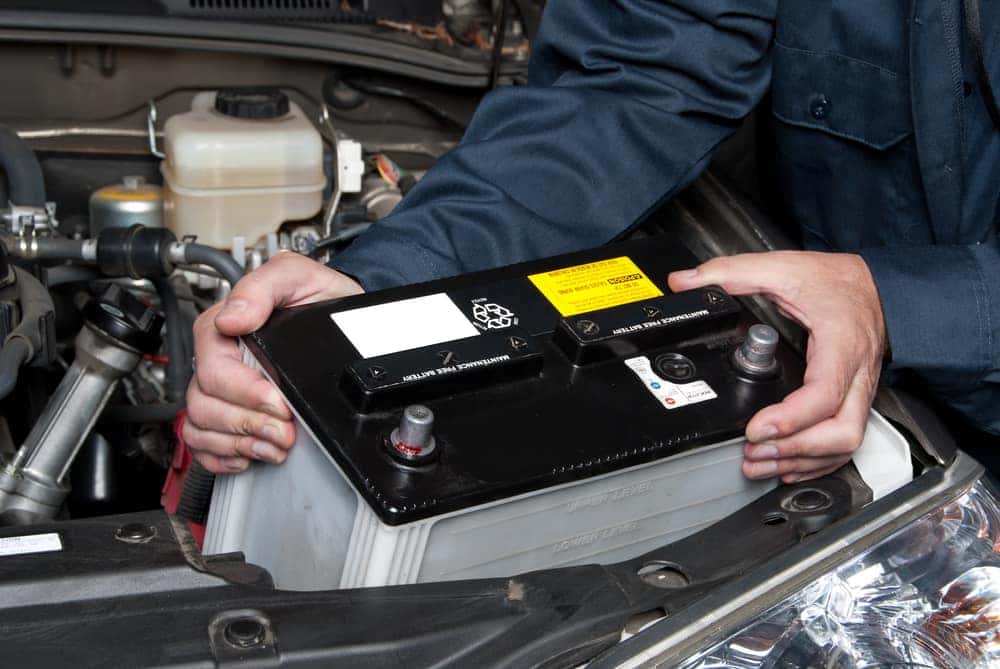 Leave It to the Professionals
While replacing a car battery is a maintenance task that's easy to complete, it may be something to leave to the professionals. This is especially true when you consider that technicians have years of experience and training under their belt. As such, they can safely, quickly, and correctly replace your car battery for you.
Speaking of safety, this is a key aspect when dealing with the car battery, since there are electrical components involved. With the training our technicians received, they know how to appropriately handle all these parts. They will also thoroughly inspect the wiring and other parts of the system to make sure the connections are solid, and power is being delivered to the various systems in your car.
We also carry the most durable batteries in stock, with a variety of sizes. This means we have a battery that is specifically compatible with your vehicle and will keep your car powered for a long time. You can even bring your vehicle by to have us accurately test your battery if you are curious about its condition. With our state-of-the-art equipment, we will quickly be able to tell you if your battery is ready for a replacement or not.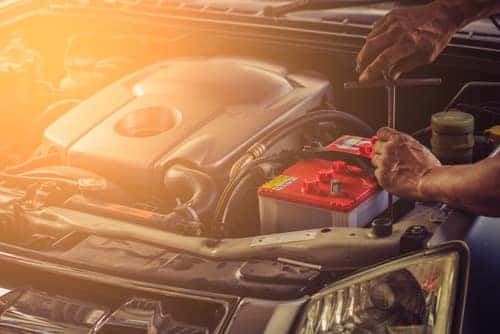 Essential Part of the Vehicle
Although it looks small, the battery in your car plays a large role in its ability to get from Point A to Point B. It is vital to getting your engine started, since it provides the jolt of electricity needed to the starter. It also helps the rest of the electrical components in your car get the power necessary to start functioning.
When you do experience trouble with your battery, there can also be other components that are failing. Once the car is up and running, the alternator takes over the responsibility of supplying electric power throughout the vehicle. It also charges your battery, which is what lets you use the battery to start the car over and over again.
When you do have your car battery serviced with us, we will also make sure the alternator is properly working. We can inspect the spark plugs to gauge their condition, as well, and examine the battery terminals to make sure there is no corrosion.
---
One-Stop Shop for Car Battery Service near Me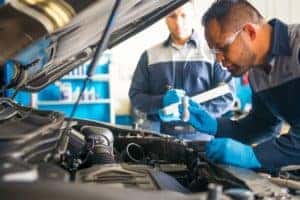 When you schedule an appointment to get a car battery replacement, you can schedule other routine maintenance to have all your service needs done in one shot. Keeping up with your recommended maintenance for your vehicle is important to preserving the various components of your car. This ultimately helps your vehicle perform well for years to come.
We also want to make things more convenient for you when it comes to having this maintenance done to your car. That is why we can replace old fluid, rotate your tires, and inspect any other parts that are due for a check when you are getting a new battery installed at our service center.
We offer even more convenience for our customers in the form of service and parts specials. In addition to new batteries, these offers can be for things like:
Oil and filter changes
Brake replacements
New sets of tires
These specials do change from time to time. Therefore, you'll want to double-check our current offerings before scheduling any type of service.
Where's the Best Place To Buy a Car Battery?
While you could replace a car battery yourself, we recommend leaving it to our team of certified technicians. That way, you'll have great peace of mind when driving your Acura around town.
If you need a car battery replacement or car battery repair near Egg Harbor, Atlantic City, or Vineland, NJ, don't wait. Schedule service at Boardwalk Acura today!