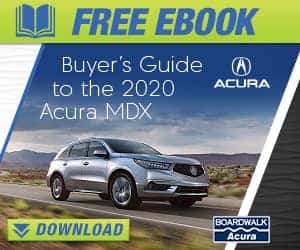 If you live near Egg Harbor, Atlantic City, or Vineland, you likely do a great deal of driving—be it for work, school, or summer vacations. Due to this, you may be looking for an SUV that can comfortably fit the whole family and their belongings.
One vehicle you could take into consideration is the Acura MDX, a luxury model with a dependable performance, lots of creature comforts, and state-of-the-art technology. To help decide if this Acura SUV is the right vehicle for you, Boardwalk Acura created this Buyer's Guide to the 2020 Acura MDX.
Inside this detailed eBook, you'll learn about the sophisticated Acura MDX and its:
Performance specs for the standard and hybrid models
Interior size and design
High-tech features for entertainment and safety
After reading through our comprehensive guide, stop by our dealership to test drive the Acura MDX. By getting a feel for the car's performance and amenities, you'll know for sure if it's right for your lifestyle.
So, don't wait. Download your free copy of the Buyer's Guide to the 2020 Acura MDX today!