Enjoy Dining on the Bay at Dockside Kitchen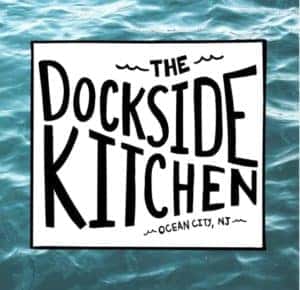 Ocean City, NJ, has two unique areas. There's the beachside, with the boardwalk, shops, and miles of sandy shores. Then there's the bayside, where you can go fishing or just take in the views of the water.
Also found along the bay is Dockside Kitchen, which we'll tell you all about in this community spotlight!
Like on Facebook | Follow on Instagram
The Kitchen's Happenings
Dockside Kitchen was established in 2017 and is known for being one of the few waterfront restaurants in Ocean City.
They're open for breakfast, lunch, and dinner—even brunch on the weekend. As a result, you get to enjoy a delicious meal and stunning views of the bay all throughout the day.
You may even decide that you love the restaurant so much, you wish to become a member. This gives you exclusive access to longer reservations for you and your family, so that you can all enjoy the views and maybe even catch a beautiful sunset.
What's on the Menu?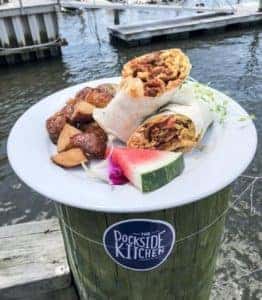 Of course, if you're looking for restaurants in the area, you'll want to know what they're serving up.
Which is why we did an exhaustive tasting of the menu—all in the name of research, of course. Here are just some of our many favorite options!
Brunch
Don't Be Crabby Toast: Lump crab meat, avocado spread, radish, heirloom tomato, onions, and EVOO on top of all-natural sourdough toast.
Nutella Fresh Toast: Cinnamon vanilla thick-cut brioche, bananas, whipped butter, fresh berries, and melon.
Create Your Own Breakfast Sandy: Sausage, pork roll, or bacon; fried egg; cheddar cheese; bagel; home fries or French fries.
Lunch
Short Rib Taco: Braised short rib, flour tortilla, chipotle aioli, roasted tomato and Jersey corn salsa, cheddar cheese, guacamole.
Summer Caprese Salad: House-made mozzarella, thick-sliced heirloom tomatoes, red onion, basil, oil, balsamic glaze.
Lobster Roll: Fresh buttered lobster meat, old bay, chive-lime aioli, iceberg lettuce, served on a brioche bun with French fries.
Dinner
Don't Be Crabby Crab Cake Flight: Three house-made mini lump crab cakes with three signature dipping sauces to sample.
Scallops Amaretto: Pan-seared scallops with a light amaretto cream sauce served on a bed of linguini with cashew peanuts and asparagus.
Land & Sea Steak: Nine-ounce New York steak topped with grilled heirloom tomatoes, fresh mozzarella cheese, grilled shrimp, and drizzled with a lemon butter wine sauce. Served with vegetable and potato of the day.
Indulge in Some Bayside Dining Today
If you're wanting a unique dining experience at the Jersey Shore, then don't wait. Stop by for breakfast, lunch, or dinner today!