Best Shrimp near Egg Harbor NJ
As a coastal town, we here in Egg Harbor know good seafood, and when you have a jumbo craving for shrimp, only the best will do. That's why we put together this list of our top three places to go for shrimp here in town.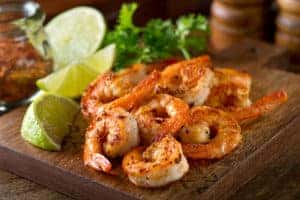 If you have a craving for authentic island cuisine straight from the Caribbean, you'll love the menu at 701 Mosaic. This bistro and café serves up traditional island fare with British, French, and Spanish influences and a combination of new- and old-world flavors.
When you take your seat in this upscale, yet warm and welcoming bistro with its charming façade, you'll have an extensive menu to pick from. We recommend the Jerk Shrimp if you want a bit of a kick. The sweet and crispy Coconut Fried Shrimp is one of our favorite main courses, served with an orange-lime dipping sauce.
They're only open seasonally, so go get it while you can! They open their doors every May after a brief wintertime hiatus.
The Doc's Place | Facebook
The Doc's place is helmed by brothers David and Geoff Heib who joined the family business in the 1990s. Here, you'll find a bayside restaurant with an inviting atmosphere and unforgettable customer service. Oh, yeah, and phenomenal food, too!
If you're all about the shrimp, start your meal off with the Hot & Sweet Shrimp appetizer. These guys are lightly fried and tossed with Ranch dressing and Frank's hot sauce. For dinner, try the Fettuccini Seafood Fra Diablo. This spicy pasta dish tosses in shrimp and jumbo lump crab meat.
They're also open for lunch and brunch and feature a carefully-curated wine list.
Jay's Crab Shack | Facebook
Jay's Crab Shack is one of the Egg Harbor area's favorite seafood joints. It was founded by Jay when he fell in love with the seaside area and the laid-back beach life. When you visit Jay's Crab Shack, you'll feel like you've found a place where everybody knows your name, especially since Jay himself loves to greet his guests personally.
One of our favorite dishes is the Grilled Jumbo Shrimp, grilled to perfection and finished with a touch of olive oil and your choice of seasonings. You can also get this dish as a salad and lay your shrimp on a bed of mixed greens.
Be sure to keep your eyes peeled for Jay's Food Trailer mobile food truck around the South Jersey area!
Get Some of the Best Shrimp near Egg Harbor
If you're looking for the best shrimp near Egg Harbor, stop by any of the places we mentioned here. You're sure to find a tasty dish you love, a welcoming atmosphere, and services you'll be telling your friends about. Go ahead and give them a try now!