The Top Pubs to Celebrate St. Patty's Day near Atlantic City NJ
St. Patty's Day is on its way, and there are several ways you can join in on the festivities. Of course, you'll want to find some green attire as well as some flashy beads. However, you'll also need to find the right spot to celebrate. Luckily, the Atlantic City area is home to some pretty notable taverns that pull out all the stops on this holiday, but we did some research cancame up with a manageable list for you.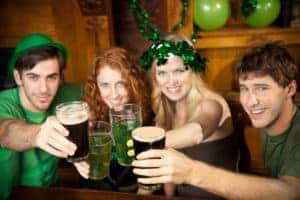 Here's the top pubs to celebrate St. Patty's Day near Atlantic City, NJ!
The Irish Pub
164 St. James Place, Atlantic City, NJ                                                                                      Facebook                    Twitter
Since St. Patty's Day involves a bit of drinking, it's nice to have a place to stay. The Irish Pub not only offers an authentic Irish tavern experience, but it even has rooms to rent that encompass a classic Victorian style. When you arrive, grab a green brew or a stout and sample some of the tasty options on the menu like St. James Potatoes, Fish and Chips, or a Corned Beef sandwich to get the classic Irish flavors. Grab your green attire and head to the Irish Pub for an authentic St. Patty's Day experience!
Leatherhead Pub
105 Philadelphia Avenue, Egg Harbor City, NJ                                                                    Facebook                    Instagram
There's a lot of history to the Leatherhead Pub in Egg Harbor City. The building was originally constructed in 1918 and served as a firehouse. Today, it's an expertly designed tavern that pays homage to its fire-fighting history. When you arrive, you'll enjoy the selection of local and national craft beers for you to enjoy for the holiday. As for the food, they've got plenty of great bar bites, as well as some classic sandwiches and burgers, and even freshly made pizza that will keep you coming back after the festivities!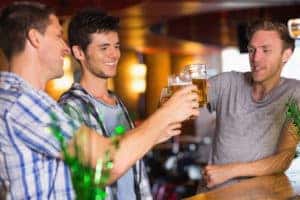 Ri Ra
The Quarter at the Tropicana, Brighton and the Boardwalk, Atlantic City, NJ       Facebook                    Instagram
If you're feeling lucky, why not head to the Tropicana and celebrate St. Patty's Day in Ri Ra. This Irish pub, located in the casino, features everything you'd expect, with its assortment of traditional Irish cuisine like Cottage Pie, Irish Boxty, and Whiskey Glaze Salmon, as well as a selection numerous Irish ales, stouts, and lagers. There's also an extensive cocktail menu that utilizes Irish whiskey in interesting combinations. Roll the dice and head to Ri Ra for Saint Patrick's Day!
When you're trying to find the right place to celebrate St. Patty's Day, you've got several great pubs in the Atlantic City that would be perfect as the venue to enjoy the festivities!