The Top Date Night Spots near Egg Harbor NJ for Valentine's Day
In order to show your loved one a great Valentine's Day, there are several steps you need to take. Of course you've got to order the flowers, pick out the chocolates, and find a great gift to give. However, you'll also need to find the right restaurant to show them a romantic night out for the holiday. To help you plan the perfect evening, we took a look around the Egg Harbor, NJ, area to find the right restaurants to take your Valentine to this year.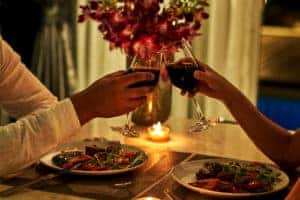 Here's our list of the top date night spots near Egg Harbor, NJ, for Valentine's Day.
Bouna Vita Restaurant
801 Bay Avenue, Somers Point, NJ   Facebook
If you're looking to delight your Valentine with some great authentic Italian cuisine, Bouna Vita Restaurant may be the right place. This BYOB restaurant provides a warm and inviting atmosphere with Tuscan-inspired décor that will transport you during your romantic evening. Get some tasty starters like Calamari Freschi or Brusccheta di Pomodoro before working your way towards captivating entrees like Risotto Primavera, Linguine Pescatore, or Pollo Buona Vita. End the evening with a delicious dessert selection like Tiramisu, Chocolate Mousse, or Tartufo al Cioccolato.
Knife & Fork
3600 Atlantic Avenue, Atlantic City, NJ     Facebook
Knife & Fork has been a staple in Atlantic City since 1912, and was even a popular hang-out during Prohibition. Today, they're known for a classy atmosphere and an impressive menu with a variety of options to choose from. Get started with a Lobster Spring Roll or some selections from the raw bar before deciding on your entrée. When it's time to order, you may find the Dry-Aged Bone-In Cowboy 18 oz. steak, Herb-Crusted Rack of Lamb, or the Seared Four-Spice Tuna are the perfect choices for your Valentine's Day dinner.
Sofia Restaurant
9314 Amherst Avenue, Margate, NJ    Facebook
Do you want to go a different route with your Valentine's Day date night? Try the fantastic Greek cuisine at Sofia Restaurant in Margate. When you walk in, the classic décor and columns will make you feel like you've been transported to the Mediterranean. There are plenty of great appetizers to help you get started on your Greek adventure, with options like Tzatziki dip, Grilled Baby Octopus, and Lollipop Lamb Chops before heading towards great entrée options like Whole Branzino, Fire Roasted Chicken Breast, or even Pan-Seared Potato Gnocchi. Make your evening memorable at Sofia Restaurant.
Finding the right restaurant for your Valentine's Day date can be tricky, but each of the restaurants listed above provide a memorable experience, great food, and a romantic atmosphere for you and your loved one on this special day.