Best Breakfast Spots near Egg Harbor NJ

Sunny-side up or scrambled eggs, pancakes or waffles, pork roll or Taylor Ham, wherever you lie in the debate, there's one thing we can all agree on: Breakfast is the best meal of the day.
So, the next time you're in the mood for an overstuffed omelet or just a simple cup of joe, here's a list of the best breakfast spots near Egg Harbor, NJ, to stop into today!
Gilchrist Restaurant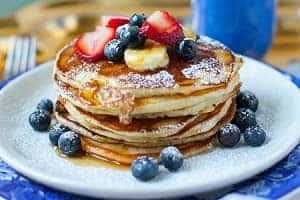 Slinging hash since the 1940s, if you're an Atlantic County native, there's a good chance you've stopped in for an early morning fill-up. With four locations throughout Atlantic City, Margate, and Galloway, the secret to their longstanding success is evident the moment the waitress drops off a steaming hot plate of one of their incredible breakfast combos.
Open daily from 6:00 AM to 2:00 PM, diners can enjoy a full menu of breakfast and lunch classics. Our favorite dish, the short stack of Blueberry Hot Cakes with fresh Jersey blueberries, is a must and goes great with a long stroll on the boardwalk to burn it off.
Learn more on the Gilchrist Restaurant Facebook page.
Hannah-G's
No trip to Ventnor is complete without a stop at this cozy storefront café that serves up some the freshest made-to-order grub on the island. Along with hitting on the all classics, Hannah G's specializes in providing a long list of delicious gluten-free and vegan options that might just inspire you to adopt a clean-eating lifestyle. There's also bacon. Delicious bacon.
During the warmer months, take advantage of their sunny al fresco seating. Hannah-G's also provides breakfast catering for your next special event. Our favorite dish is the Ranchero Eggs on Quinoa containing a poached egg served atop hot quinoa with fresh salsa and avocado.
Check out the Hannah-G's Facebook page to learn more.
Shore Diner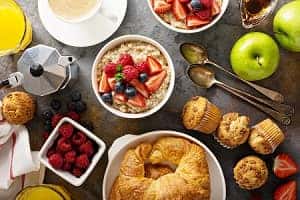 It wouldn't be true to the culture and spirit of South Jersey if we failed to mention this one-of-a-kind diner located right off Parkway Exit 36 in Egg Harbor. Since they first opened their doors in 1992, this local institution has been a favorite among locals and Shoobies alike, in large part to its convenient location, on-site bakery, and 24-access to the diner breakfast staples you crave, whether it's 5:00 AM or 5:00 PM.
One of the best parts of the diner experience is the great combinations you can make without a whiff of judgement. Eggs Benedict and a side of Disco Fries? Why not! Our favorite dish? We're sticking with the classic Pork Roll Egg and Cheese served on a fresh Kaiser roll.
Find out more the Shore Diner Facebook page.
Start Your Morning Off Right!
Now that we covered some of the top breakfast spots near Egg Harbor, NJ, we feel it's time for you to go check them out for yourself! Stop into any these great locations or go online to view their menu options today!