The Best Bakeries for Holiday Desserts in Egg Harbor Township NJ
Now that the holidays are approaching, you've got a lot of items on your list in order to get into the holiday spirit and prepare for the celebration with family and friends. There's the experience of buying gifts, getting your decorations all set up, and figuring out what type of food will be included in the spread. However, one of the most crucial aspects of the holiday food is the desserts.
Here are the best sweets for Holiday desserts you can find near Egg Harbor Township, NJ.
Christine's Italian Pastry Shop
314 Tilton Road, Northfield, NJ Facebook
Whether you're on dietary restrictions, or there are food allergies in the family, Christine's Italian Pastry Shop is your destination for delicious gluten-free treats. They've got an assortment of cookies, cakes, pies, pastries, and even breads that are all made in-house, and free of wheat and flour, so you can rest easy knowing that all your guests can enjoy the treats without any digestive repercussions. Make your holiday party or family get-together fun, festive, and gluten-free!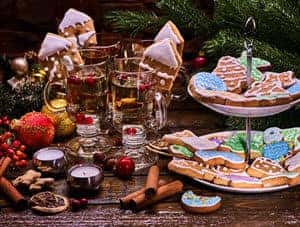 Simply Sweet Cupcakes
130 Philadelphia Avenue, Egg Harbor City, NJ Facebook
If you're looking for award-winning cupcakes to delight your holiday guests, Simply Sweet Cupcakes may be the place you're looking for. They were the Season 8 winners of "Cupcake Wars" on Food Network. Since 2012, this dessert shop has been providing Egg Harbor residents with delightful treats and baked goods, spanning from French Toast Cupcakes, White Chocolate Cherry Cupcakes, and even Root Beer Float Cupcakes. They're constantly coming up with new, delicious flavors to always keep their customers guessing.
Wards Pastry
730 Asbury Avenue, Ocean City, NJ Instagram
For more than 80 years, Wards Pastry in Ocean City has been a dessert landmark in the South Jersey shore points. They're the go-to place for fresh baked goods, but they've also got an assortment of desserts that'll be the attention-getter at your holiday festivities. They've got a variety of treats like Fried Cinnamon Buns, Pies, Homemade Donuts, Eclairs, and of course, cakes. They custom make cakes, so you can come up with a fun holiday theme sheet cake, or a round cake spanning in different sizes.
If you're seeking out the right treats to serve at your holiday party, or any other type of get-together, then these spots certainly serve up the best sweets for the holidays in Egg Harbor Township, NJ. Drop by and sample some goodies, or get right to ordering your desserts for your upcoming holiday party!