Perks of Leasing an Acura MDX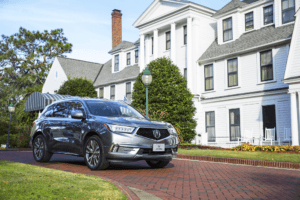 When you choose to lease a luxury SUV like the MDX, you're opening the door to tons of benefits. One of the coolest is that you'll get to drive a brand-new vehicle every couple of years. Since leasing contracts typically last anywhere from 24 to 36 months, you'll get to drive the MDX wherever and whenever you please.
When the lease is up, all you need to do is return it to us and we take care of the rest. This process allows you to pick a new and highly advanced model with all the latest features as well as switch up what you're driving every few years.
Leasing also typically presents you with lower monthly payments and little-to-no money down. Since this vehicle is only in your possession for a couple of years, you won't have to be concerned about repair costs down the line. Plus, your MDX will be covered by a warranty—another great perk of leasing—and maintenance is covered, too! After all, these benefits are just the tip of the iceberg.
Acura MDX Overview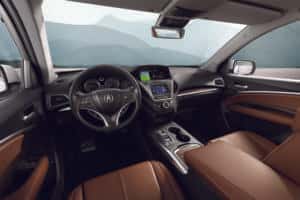 This SUV provides a luxurious third-row experience, allowing you to seat up to seven passengers inside of its cabin. All those who enter will be greeted by a lavish seating trim, top-of-the-line technology, and fun features that make driving a brand-new experience.
When seated in the front, you'll have control of several innovations, such as the 8-inch On Demand Multi-Use Display, which allows you to access Apple CarPlay™, Android Auto™, and Bluetooth® HandsFreeLink® wireless telephone interface. Plus, with the available 12-speaker premium sound system, your drives will never be boring.
In the back seat, passengers can enjoy ultimate entertainment with the available Acura Rear Entertainment system, which includes a 16.2-inch widescreen with HDMI compatibility and wireless headphones.
Along with the great features inside, this SUV is powered by a 290-horsepower 3.5L V6 engine. Front-wheel drive and all-wheel drive are available for this model, too, allowing you to easily transition between city driving and off-roading adventures.