2018 Acura ILX vs Honda Civic

Whether you have long commutes to work or make frequent trips to the beach, you need a comfortable sedan with plenty of features. Two viable options are the ILX and the Civic. However, which one would be better for your needs and lifestyle around Egg Harbor, Atlantic City, and Vineland?
To help you decide, our team at Boardwalk Acura created this 2018 Acura ILX vs. Honda Civic comparison. Discover the similarities and differences between each compact car, and contact us if you have any questions.
Interior Design & Amenities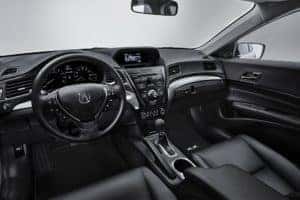 The 2018 Acura ILX is a luxury vehicle, and that's evident from the moment you sit inside it. It comes standard with leatherette seating and is available with leather-trimmed or leather-perforated seats. A leather-trimmed steering wheel and shift knob are standard, adding to the vehicle's refinement.
Plus, the cabin features active noise cancelation. It'll listen to ambient engine and wind noise, and will produce an equal but reverse sound through the audio system. The result is the two sounds canceling each other out for a smooth and quiet ride.
The 2018 Honda Civic, meanwhile, isn't a luxury vehicle. It comes standard with cloth seats and doesn't offer a leather-trimmed steering wheel and shift knob until the higher trim levels.
Furthermore, the ILX comes standard with heated front seats, along with dual-zone automatic climate control. With these features, you'll be sure to stay toasty on even the coldest days. Plus, you and your co-pilot can select your preferred temperature settings, so no one has to stay too hot or too cold.
The Civic has these features, too. Unfortunately, you have to upgrade to a higher trim level to get them.
Want to learn more about the interior of the ILX? Check out our Acura ILX interior review here!
Advanced Technologies
If you love technology, then you'll love being in either the 2018 ILX or the 2018 Civic. They both come standard with Bluetooth® technology to easily stream audio or make phone calls hands-free.
The ILX also comes standard with Pandora® compatibility, whereas that's an available feature in the Civic. However, they both offer HD Radio™, along with SiriusXM® Satellite Radio. With so many music options, you'll always find something new to listen to.
The great thing about the infotainment system in the Acura ILX is that it's easy to use. The touchscreen is responsive, and there are plenty of physical buttons and knobs for common functions.
Unfortunately, the infotainment system in the Honda Civic isn't as user-friendly. Many find the touchscreen to be a bit difficult to use when driving. There are redundant knobs and buttons on the control panel; but overall, it's not as simple to operate as the system found in the Acura model.
Acura ILX vs Honda Civic Performance Specs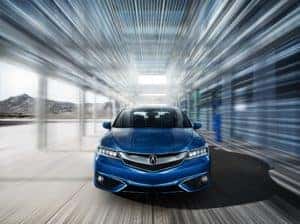 The 2018 Acura ILX and 2018 Honda Civic are known for having powerful engines and a comfortable ride quality.
For instance, the ILX comes with a 2.4L 4-cylinder engine that's mated to an 8-speed dual-clutch transmission. The transmission was originally developed for racing, and its design is meant to shift faster, smoother, and with greater efficiency than conventional automatic transmissions.
Plus, the engine has a light weight, which results in nimble handling and notable fuel economy. It also has Intelligent Variable Timing and life Control (i-VTEC®), which increases horsepower by opening intake valves longer and deeper at 4,500 RPM and above. The result is an engine delivering 201 horsepower and 180 lb-ft of torque.
The Civic, meanwhile, has two engine options to choose from. Unfortunately, the most powerful—a 1.5L 4-cylinder—delivers just 174 horsepower and 167 lb-ft of torque.
2018 ILX vs 2018 Civic: Verdict
It's clear that the 2018 Honda Civic is an impressive vehicle. However, the 2018 Acura ILX offers more standard features and a more powerful performance.
If you're interested in checking out the ILX near Egg Harbor, Atlantic City, or Vineland, don't wait. Schedule a test drive at Boardwalk Acura today!