Acura Pleasantville NJ
Pleasantville is certainly a suitable name for this idyllic city in Egg Harbor Township, NJ. This vibrant and diverse city is conveniently located within 7 miles of Atlantic City, making heading to the casinos or picturesque beaches easy and convenient. You can even take the NJ Transit bus from Pleasantville to Atlantic City, but while this is convenient, there's something about taking your own car.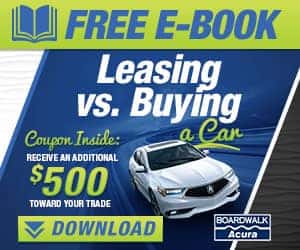 Luckily, if you're a Pleasantville native who's currently considering your options for a set of wheels, you have a lot of options to consider. But if you're looking for something stylish, efficient, and loaded with features, you may want to consider an Acura. Don't worry about traveling too far to find what you want, because there's an Acura dealer near Pleasantville. Boardwalk Acura is what you're looking for.
Searching for Your Acura
You don't have to worry about traveling too far for an Acura dealer near Pleasantville, because we're just a few miles away, providing you with the convenience of browsing for your next Acura. However, you don't actually have to make the short trip over to our dealership to start checking out models like the Acura TLX, RDX, and MDX. Instead, visit our website and start browsing our inventory to find a vehicle that you're looking for. You'll be able to get most of the legwork done without having to walk out the front door.
Researching Your Options
In order to figure out which model is right for you, you'll want to do a little research. As an Acura dealer near Pleasantville, we can certainly tell you that drivers who take the time to research their options are happier with their decision.
We encourage drivers to use our free research tools to help them learn as much as possible about the models that they're really interested in getting. These guides will detail the engine specs, interior space, featured amenities, and safety options. By seeing what the vehicle offers, choosing the one that's right for you will be easy.
Finalizing Your Decision with a Test Drive
While researching the potential models that you want can be illuminating and insightful, there's no better way to figure out which model is right for you than by taking a test drive. Getting behind the wheel and experiencing the vehicle on the road is one of the best ways to determine if it's the right choice. Not only will you get a great view of the interior with its stylish materials and array of fun features and technology, but you'll also get a feel for how the vehicle handles itself on the road with you in the driver's seat. By the time you head back to our dealership, you'll know with absolute certainty if you've just taken a spin in your next car. We're simply happy to provide you with the opportunity.
At Boardwalk Acura, we're always thrilled to help drivers from Pleasantville make the right choice when it comes to choosing their next vehicle.